welcome to lorem (ipsum)!
Ipsum. A mega-city that is located beachside, with mountains and a river surrounding its expansive homes and towering buildings. The city is beyond beautiful... yet none of the residents have any idea how they arrived, and have yet to leave, because Ipsum is a city you can never leave -- not by choice. People appear here without any knowledge where they are, no one knows what country or world they are even in. Yet, the city still provides for her people. Jobs, homes, goods are all readily available, and there is a place for everyone, be it the good or bad — Ipsum shall provide.
Please make yourself at home… you will not be returning to yours any time soon.
We are an Intermediate to Advanced RP Forum that offers a sandbox world for our members to play in with plot driven events! Please read all the rules before joining, and please be sure to register your OOC account first, with your name, then please register your character account in PROPER CAPITALISATION after you make a reserve. Please ensure you have registered with the proper naming convinctions of your character's country. We have no word count, we are rated L3|S3|V3, and are pleased to have you join us.
CURRENT EVENT: FESTIVAL OF FLOWERS
AUGUST 5: With the new CREDITS STORE now in use, all active accounts will be receiving 500 credits as a gift to get everyone started!
AUGUST 1: SPOTLIGHT NOMINATIONS are up! Nominate before the 7th!
JULY 24: ACTIVITY CHECK IS UP! Thank you for checking in guys! There's also been an update to how we handle MEMBER CLAIMS.
JULY 19: RULES UPDATE: We will now allow Silent Protags on a case by case basis. Please use the inquiry forum if you wish to apply for one of these.
JULY 14: RULES UPDATE: You must have a reservation. If you have not had a reservation in 10 days, your app will be dropped. If you have not had a reservation for a month, character account will be dropped, even if you have asked to hold the character in a recent Activity Check.
JULY 6: TAG BOX CHANGES We have some updates to our tag box, read about it here
9nadir 17denizen 21syzygy 17xephyr 7zenith 5nether
gotta keep an eye on you
, ciel & sebastian
Zenith
Kuroshitsuji
Ancient
♂
Servant
0
18
as played by Roswell
Player Pronouns Any
Player Age ∞
awards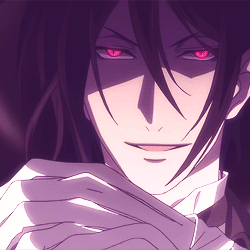 per aspera ad inferi
all your dreams will come true
Being at the top did have its advantages. A large house was one of the few. Without the rest of the manor staff, though, he found himself with far more room than he knew what to do with. It wasn't as if he needed so many rooms, or a view of the ocean, it was only more he had to keep tidy. The sun room on the west side had been turned into a dedicated cat room, because he could. They seemed to enjoy the space, and they had certainly been spoiled in terms of toys and feline furniture. That door, however, was kept firmly shut these days, unless he was visiting or taking care of his precious pets. With the young master finally out of the dorms and back in a proper home, he did have to be extra careful about the cat fur.

Sebastian's afternoon, after the boy's lunch, had been spent in the kitchen, preparing the boy's favorite treat in the tedious human fashion. He already knew what everything was supposed to taste like, but, orders were orders. At the very least, the kitchen in the house - mansion, really, 'house' was far too tame a term - was several steps above what he'd been used to at the Phantomhive manor. Expansive, pristine, leaps and bounds ahead of what he'd known, technology-wise. It was a dream.

Without bothering to knock (it was his house, technically) he would enter the study, a perfectly polished silver platter balanced on one hand, which would soon be set in front of the boy. "Have you made much progress?" It only made sense, considering resurrecting his family company in the city. Especially if there truly was no way home.
Nadir
Kuroshitsuji
15
♂
Student
0
16
as played by Snow
Player Pronouns Any
Player Age ∞
awards
There was so much to go into the idea of restarting the business his father had built for him, not just money either. Money, of course, was no issue. Ciel was well off here, his funds from home having been placed into his coffers here. His net worth was greater in Ipsum than it had been in England and the number of zeros attached to his name was almost overwhelming. And yet he sat in the home his demon had procured, and not spent a single credit to acquire it.
And because the demon was his, the home was effectively his as well. Finger tapped to the wooden desk as he looked over the business plan, and tried to figure a way that he could make a successful business. It would not be anything like the Funtom Company of London, how could it be. It had taken years of careful grooming, using his family name that held such clout and working hard to make it a multinational corporation that dealt in more than toys and sweets, but foods and other things.
No, he would have to scale things back, significantly. Crossing one leg over the other, the 15-year-old studied the papers before him carefully, lifting and looking through them carefully as he tried to decide how to go about this. He had responsibilities beyond the business, unlike in London. He was required to seek an education here, as well as the Queen seeking him out as a playmate for her daughter.
There was a frustrated sound as the demon came walking in, a slice of chocolate cake placed beautifully on a silver platter. Ciel would huff and press his elbow to the wood, the boy older and taller than he was when he first came to this world, but still very much a boy in many ways, "I have not. It looks as though I will have to start from the bottom and work my way up, unlike the first time. The Phantomhive name does not hold as much weight as it did in London." He groaned out, before lifting the fork and sliding it into the rich, dark treat.
Even if he was a lord once again here, his name was still nothing compared to those who hold a position in parialment. He was just an aristocrat that was too young in the eyes of everyone who looked upon him. Taking another bite, the teen would clearly be annoyed, "I suppose I should look for a partner, like the Mauris Corp. They own everything it seems. Better to work with a giant than face off against them." Even though his company was once the giant...
Zenith
Kuroshitsuji
Ancient
♂
Servant
0
18
as played by Roswell
Player Pronouns Any
Player Age ∞
awards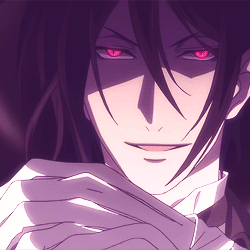 per aspera ad inferi
all your dreams will come true
The frustration in the boy alone was, really, more than enough to tell him progress had probably not been made. Which wasn't entirely surprising, all things considered. Given the word, he could lay the foundation for the resurrected Funtom empire overnight, but, no, the little lord seemed adamant in doing things the hard way. And he'd had to remind himself, several times, that, within Ipsum, the boy was not an impostor Earl, but a real Lord. Not that it seemed to make much of a difference for him. Without his family name to rely on, he was at quite the disadvantage compared to the rest of the aristocracy.

"How unfortunate, having to rely on your own merits." He kept the visible smirk off his face, but it was there in his voice. It was, on occasion, quite nice to see the boy knocked down a peg or two. Watching him try to rebuild the reputation he had once enjoyed, mostly on his own, had been rather entertaining.

Sebastian moved, positioning himself behind the boy's seat to peer over his shoulder at what he'd managed to accomplish so far. "That may be the easiest solution, until your own name is recognizable enough to separate from them." Use the giant as a means to climb toward the top, break away when they could hold their own. Although, it might be in their best interest to make efforts at maintaining a good relationship with Mauris. It would be a long time before Funtom could pose a real threat to any other major company. They would have to play nice for a while.
Nadir
Kuroshitsuji
15
♂
Student
0
16
as played by Snow
Player Pronouns Any
Player Age ∞
awards
Closing his eyes, the young lord would flick them open to reveal a singular azure orb aiming its ire directly at the man that stood before him at the comment. The sharp edge of the words did not bypass the teen, as he took another bite of his treat with an indignant 'om' sound. His eyes closed as he chewed, he would swallow carefully and glance towards his plan, "
I will send you to the Mauris Company to present my plan to the CEO there.
"
Turning in his chair, the male would smile up at Sebastian and tilt his head slightly, "If we are refused, I might have to look into other ways to make this a reality once more." He was no stranger to Sebastian's ability, as both a demon, seeing as he rebuilt the Phantomhive Manor in a single night, and as a Zenith sorted being. But, Ciel wanted to avoid the use of both at this time, he wanted them to become the last resort if all else failed. The easy route was not always the best.
Shifting his chair, he took the final bite of the treat and set the plate down carefully before he lifted his pen and started to write out more. He was trying to figure out how to make his business happen without relying on his butler. He was a man now, and needed to rely on his own two feet and his own two hands. His twin was not here, he was still Ciel Phantomhive here. That would never change.
Zenith
Kuroshitsuji
Ancient
♂
Servant
0
18
as played by Roswell
Player Pronouns Any
Player Age ∞
awards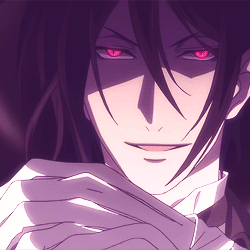 per aspera ad inferi
all your dreams will come true
His remark had the intended effect and he found himself pleased with that. There was so little in this world to entertain himself with, he couldn't help prodding at the little lord. Not that he had ever really restrained himself from the hobby back in their own universe. The boy put him through so much, he couldn't help taking out a bit of frustration from time to time.

Sending an envoy was probably a better choice than going in person. Sebastian could not be sure how seriously the company would take someone of his master's age - despite him already being a man by their world's standards, and nearly one by Ipsum's. "Of course." If they were turned down, there were other options. There were always other options.

"Just say the word, and I will make it so." Whatever he wanted, as always. It was his job, his duty, to fulfill his master's wishes, in the aim of satisfying the contract. It was the reasoning he adhered to, without giving any attention to the small part of himself which was often genuinely pleased by making the boy happy. It was a strange thing for his kind, to get attached to one's dinner in any capacity beyond becoming possessively protective.

Not for the first time, he wondered what might happen if he was never able to collect his prize. It seemed less and less possible with each passing day and he knew there would come a moment when he might be forced to fully accept they were well and truly trapped. That there really was no way to satisfy the quest for revenge.

Sebastian moved, collecting the plate and the platter, "Would you like your tea now or later?" Routine was easy and familiar, even for one of his kind. The best they could do was try assimilate until a way home presented itself.
1 User(s) are reading this topic (1 Guests and 0 Anonymous Users)
0 Members: